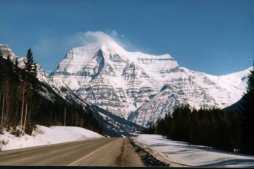 Tete Jaune Cache is located in the heart of British Columbia. Surrounded from the Rocky Mountains, Cariboo Mountains and Monashee Mountains. Tete Jaune means "yellow head" in French, and comes from the nickname given to Pierre Bostonais, a trapper of the early 1800's who had light coloured hair. Located at the crossing of HW 16 and HW 5. Named after the legendary Trapper Yellow Head, during the Pioneer times.


| | |
| --- | --- |
| | This historical place is just 13 km away from the world heritage site Mount Robson Provincial Park, with the highest peak (12,900 feet) of the Canadian Rocky Mountains ,the magnificent Mount Robson. A spectacular natural scenery that invites to Hiking Trails, waterfalls, crystal clear mountain lakes and the legendary Fraser River. This is Canada pure , fantastic possibilities to see wildlife like Bears , Bald Eagle and much more! In the fall you can see the Salmon Spawning Grounds with the huge Chinook Salmon! |
| | |
| --- | --- |
| A huge variety of adventure activities gives you the opportunity to explore old Trapper Cabins, out of the pioneer times. Go for a guided ATV Tour in this backcountry, white-water rafting , gentle rafting, horseback riding, fishing, golfing or heli-hiking ! Or enjoy a typical harsh winter holiday in the Rocky Mountains with the possibility of snowmobiling, crosscountry skiing, dogsledding, ice-fishing , heli-skiing or heli snowshoeing. Come for the nature, and stay for the adventure! | |
| | |
| --- | --- |
| | Valemount is located 20 km south of Tete Jaune Cache. Located just south of Valemount in the High Country region you will find the Robert W. Starrat Wildlife Sanctuary. This sanctuary has 6 km/3.6 miles of trails and walkways, accessing towers for observing wildlife in the wetlands below. The main entrance is on Highway 5 south of Valemount (two minutes driving, ten minutes walking). The first viewing platform is less than five minutes walk from the parking lot. A hike to the second wildlife viewing platform takes about 30 minutes, to walk around the entire marsh takes about one and a half hours. |
From here you can also see the Albreda Glacier, the remnant of an ancient ice field that glistens blue, even on warm summer days. Depending on water levels the intricate waterways make for a peaceful canoeing experience, on your own or with a guide. Trail conditions can change from season to season. The Jasper National Park boundary is 45 min. away, a truly spectacular Trip ! Distances from Valemount:

Prince George -- 300 km
Kamloops -- 320 km
Vancouver -- 675 km
Edmonton -- 465 km
Jasper -- 120 km



Tete Jaune Cache offers something for everybody - young and old!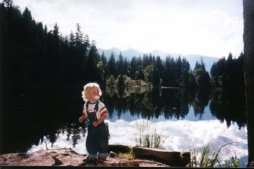 This Travel Guide was kindly made available by Elke Vogelpohl of Mica Mountain Lodge in Tete Jaune Cache.